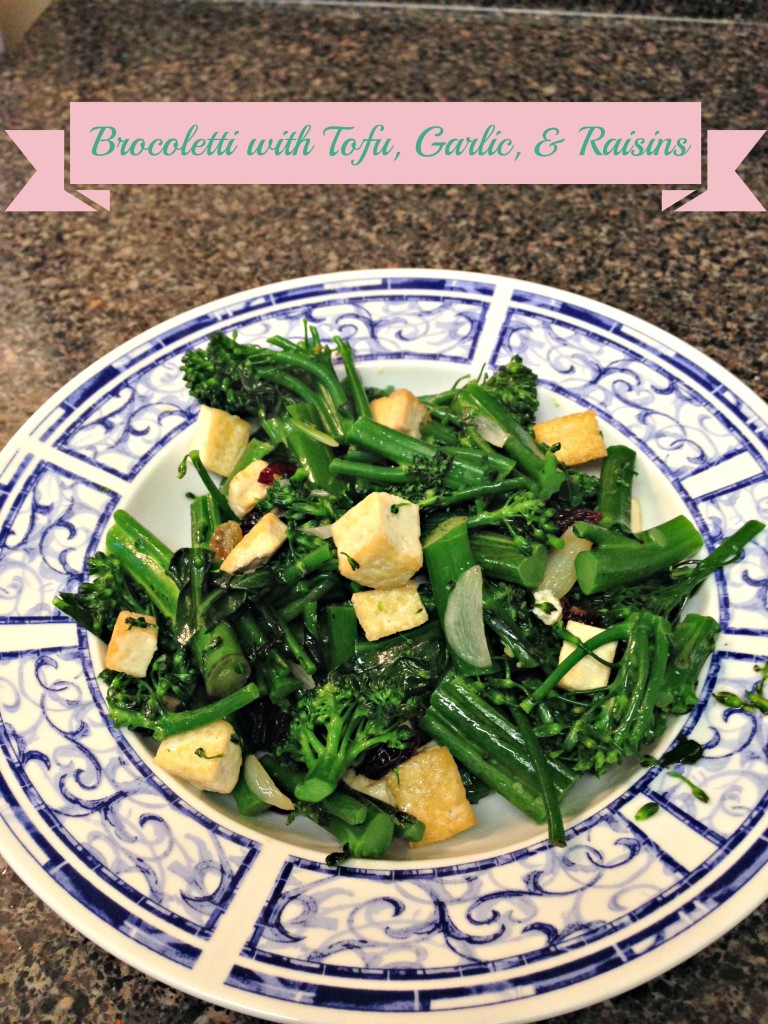 Part of my menu plan was Broccoli Rabe, Garlic and Golden Raisins as found in the Cooking Light magazine back when I had a subscription.
It's only six ingredients and pulls together in less than 30 minutes. Yay!
However, when I went to Wegmans, I couldn't find broccoli rabe. I even asked the produce guy who looked at me like I had two heads. I showed him the picture on my MealBoard app and he still didn't know what I was talking about. And thanks to that same picture, I figured that brocoletti is basically the same thing as broccoli rabe, and it even came in an incredibly convenient 1-lb. bag!
Confession: That canister of raisins? It's actually holding regular raisins, golden raisins, craisins, and other tangy dried fruits that I buy in smaller packages. I like variety.
Chopping the brocoletti into 2″ pieces left a jillion little green broccoli tips all over my cutting board and counter. I felt like a serial killer.
I also learned I really need a splatter screen.
Everything came together so rapidly I didn't have time for more pictures. If you had told me before that the combination of sauteed garlic, broccoli, and raisins in one bite is like a giant flavorful symphony in your mouth, I would have doubted your sanity. So delicious! But even with tofu, I had to eat several servings to feel full so this makes a better side dish than a main dish for me.
Brocoletti with Tofu, Garlic and Raisins
Ingredients
1 pound broccoli rabe
1 tablespoon olive oil
1 cup tofu, chopped
3 garlic cloves, thinly sliced
1/4 cup raisins, golden
1/4 teaspoon sea salt
Instructions
1. Bring 8 cups of water to a boil in a large saucepan. Cut broccoli rabe into 2-inch pieces. Cook broccoli rabe in boiling water 2 minutes; drain.
2. White water is coming to a boil, heat a large nonstick skillet over medium heat. Add olive oil to pan; swirl to coat. Add tofu and cook until heated through. Add garlic to pan; cook 30 seconds, stirring occasionally. Add broccoli rabe and raisins to pan; cook 2 minutes. Stir in salt.